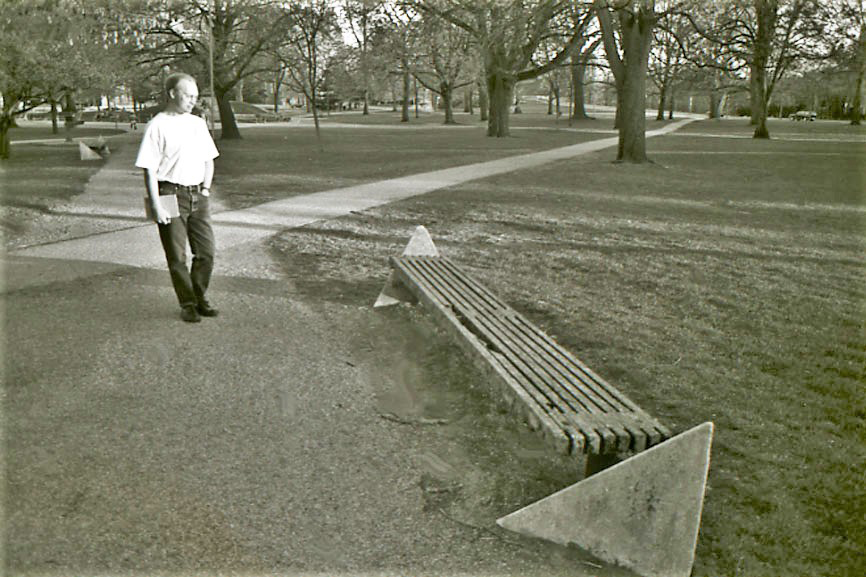 Let me recount the story of a glorious summer, as it was told to me by a park bench I sat down on a few days ago, under an oak tree in Queen's Park.
Now decrepit, the bench and a few others of its kind reside south of the Veterans' War Memorial, where Queen's Park Crescent divides.
They don't say much when you first meet them, and they certainly don't look like much.
But if you are over thirty-five or so, they may claim to be an acquaintance of yours and strike up a conversation.
And if you are younger—well, you might want to make friends so you can hear what they have to say.
The tale told here quietly, and a little sadly, is one of hope and celebration, mingled with amusing parsimony and competitive rivalry between two great cities.
For these are not ordinary park benches, but former ambassadors. They are the street furniture that was Toronto's contribution to Expo 67, in Montreal.
Compared to what others did they weren't a big deal—they consist of two-by-fours held together to create a seat supported by white cement triangles at each end.
Exactly thirty years ago this summer, these pointy objects—their surfaces and edges then more sharply defined, as was the national will—were playing a supporting role for more than fifty million people who attended Expo.
The benches were part of an ensemble that included a triangular trash bin and an unusual street lamp incorporating a hollow column with a floodlight inside, aimed upward at a white reflecting disk that spread out the light.
Many Torontonians believed Expo should have been held here, on Centre Island. Allan Rowan-Legg, an Ontario Expo official, recalls having to convince his friend, Toronto Mayor Philip Givens, to do something for Expo by engineering it as an investment that would eventually be returned. Council coughed up forty thousand dollars for the bench project.
About the designs writer Alan Edmonds hyped, "The triangular motif swept through the fairground in litter baskets, bench supports, lamp bases. Benches were gracefully linear. . . . The streetlights were actually elegant."
Perspective and weather have been less kind to the furnishings, which besides deteriorating now seem too self-consciously designed.
"They were not furniture," says Toronto designer Paul Arthur, who developed Expo's simpler graphics and signage but not the benches. "They were something that said, 'Look at me, I'm special.' And they weren't comfortable to sit in. They were awful."
The Toronto benches were designed in Philadelphia by an American. When the fair ended, Givens' successor, William Dennison, dutifully asked that the benches be shipped home, despite the pleas of Montreal Mayor Jean Drapeau, who wanted to keep Expo open forever as Man and His World.
More heartfelt Toronto contributions to Expo were made individually, by citizens like Arthur, whose clear signage successfully guided daily life at the fair.
From Toronto, too, were principal architects of the daring Canadian pavilion. They were Roderick Robbie (whose offices are now on St. George Street) and Colin Vaughan, today's Citytv reporter and the one-time Annex-area city councillor.
They designed an inverted pyramid, the Katimavik (Inuktitut for "meeting place"). "The pyramid is a symbol of permanence," Robbie, who later designed the SkyDome, told me in May. "We turned it upside down and suspended it in mid-air to show a number of things. One was great dexterity in balancing people and problems."
What an optimistic approach it was, and that summer there were people who sat on these benches under Katimavik or walked its windy perimeters high above the Saint Lawrence River (I was among them, aged nine), who perceived a culmination.
Expo was a demonstration of talent and co-operation that suggested the nation was coming of age. The truce between French and English was at hand. The nation seemed to be assuming the greatness Wilfrid Laurier believed would be Canada's destiny in the twentieth century.
"Ca-na-da. / One, two, three little Canadians, / we love thee. / Now we are twenty million," sang the chorus of young voices who recorded, at Toronto's Hallmark Recording Studios, the centennial year's definitive song, by Bobby Gimby.
Yet danger lurked beneath. Rod Robbie remembers terrorist threats against Katimavik, when it was still under construction. More prophetic were "all kinds of problems we had with the Saint Lawrence River," he says. Its unrelenting flow eroded the foundations of fill on which Canada's Expo triumph was built.
Today, Buckminster Fuller's geodesic dome (the former American pavilion, now the Biosphere), Habitat 67, and the French pavilion converted into a casino are among Expo's few functional remnants.
So too, bizarrely, are these benches in Queen's Park. They are crumbling with our dreams, perhaps, but, like people in their fading years, they have become eloquent storytellers.
(Originally published in the July, 1997, issue of the Annex Gleaner.)